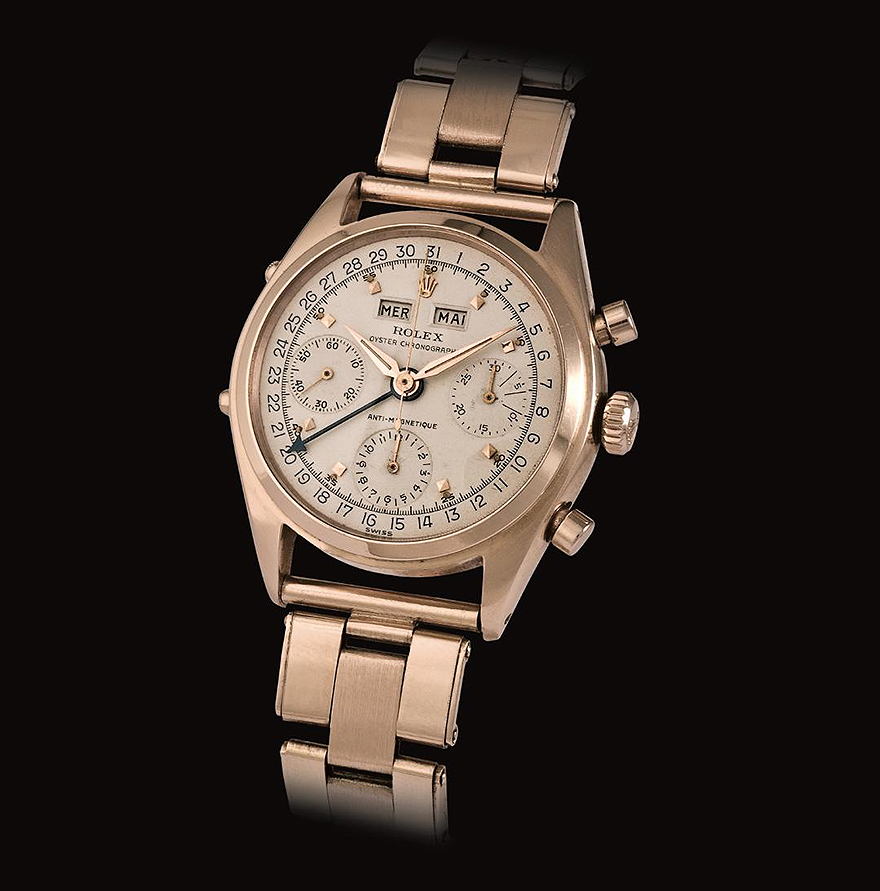 1955 pink gold Rolex Datocompax, Ref.6036.
Photographs by John Goldberger
Text by Davidé Munari
Amidst a flurry of orchestrated fever for Daytonas, Submariners, and other sport models in recent years, it is easy to forget the real kings in the history of Rolex: the Datocompax and reference 6062. To the educated cognoscenti, they represent the pinnacle of Rolex collecting in terms of significance, beauty, and rarity. Precious flagships by retrospective scrutiny, they are the most iconic complicated Oyster models, long standing symbols of the majesty and quality of postwar Rolex watchmaking.
Introduced in 1947, 4767 was the first reference of the Datocompax, incorporating chronograph and complete calendar functions in a waterproof Oyster case. A calendar module was added on top of the Valjoux 72 based chronograph caliber and fitted inside the marque's famous two-piece monobloc Oyster case with screw-down back, guaranteeing water resistance. Despite the juxtaposition of multiple complications, the case and particularly the dials were perfectly proportioned. Reference 5036 succeeded 4767 and was subsequently replaced by reference 6036 in 1951. Production of reference 6036 ended in 1957 and Rolex introduced 6236 in 1958, the last Datocompax reference, now in a three-piece case with detachable bezel and cased exclusively in steel. Production of the Oyster Datocompax ended in 1963 upon reference 6236's discontinuation. Estimates of production numbers vary, but scholars believe approximately 1650 examples were produced in fifteen years, all four references combined, a tiny fraction of the many tens of thousands manual-wind Daytonas produced over a span of a quarter century after the discontinuation of the Oyster chronograph models. The Datocompax was made predominantly in steel, with fewer examples in yellow gold and rarest in pink gold. A variety of dial configurations were fitted, with either applied, printed, or recessed indices in different shapes. A few examples, up to early reference 6036s, can be found with signatures of past retailers such as Serpico Y Laino and Joyeria Riviera on the dials, making them highly sought after. To this day, the Datocompax remains the most complicated watch ever made by Rolex. High quality, well preserved examples are exceedingly difficult to find as most have had their cases over-polished, even refinished, and dials damaged or cleaned. The challenge for the serious collector lies in finding correct, original examples in the rarest configurations.
Debuting at the Basel Fair in 1950, reference 6062 was the world's first self-winding wristwatch with complete calendar and moon phase in a waterproof case. The 6062 was a step-up from reference 8171, introduced one year prior, which houses the same self-winding triple date moon phase caliber in a non-waterproof snap back case. Unlike 6062, most 8171s did not have chronometer certified movements. In many ways, reference 6062 represents the epitome of Rolex's watchmaking art: a complicated yet robust and accurate in-house-designed automatic movement sealed inside the iconic Oyster case, adorned by incredibly beautiful dials. About one thousand examples were believed to have been produced in the first half of the 1950's with a variety of dial configurations, cased in yellow gold, steel, and pink gold, in ascending order of rarity. Those bearing dials with star-shaped indices were nicknamed "Stelline" by Italian collectors and became arguably the most beautiful and iconic complicated watch ever made by Rolex. An estimated 250 "Stelline" were made, the dials of which can be found with luminous plots either outside or inside applied star indices. Most of the yellow gold and all of the pink gold "Stelline" known have dials with luminous plots outside the star indices and "Officially Certified Chronometer" printed directly below the calendar windows. "Stelline" dials with luminous plots inside the star indices and more importantly, "Officially Certified Chronometer" printed below in the moon phase counter are considerably rarer and arguably more aesthetically balanced. Dials of yellow gold references 6062 can also be found with applied pyramid or dagger indices. Examples with black dials, found exclusively on yellow gold 6062s, are very rare, the most famous of which being the "Bao Dai," which achieved a record price of CHF$5,066,000 at auction in 2017. Approximately 200 examples of the reference were made in steel, the dials of which are embossed with mixed arabic and dart shaped indices in either silver or gold color. Embossed dials of the same configuration in pink are occasionally found on the rare pink gold 6062. Like the Datocompax, very few 6062s have survived in good condition.
As the pinnacle Oyster models made during the postwar decade, wherein aesthetics reached a peak and rarity a consequence of the cost of the watches at the time, reference 6062 and the Datocompax were the most important models ever made by arguably the most important manufacturer of wristwatches in history. High quality specimen of both models are very difficult to find even for the most seasoned and adventurous connoisseurs with the deepest pockets. The hunt for the most beautiful examples in the rarest configurations is a never ending quest for serious watch collectors of all genres, and to this author, represents a culmination of wristwatch collecting.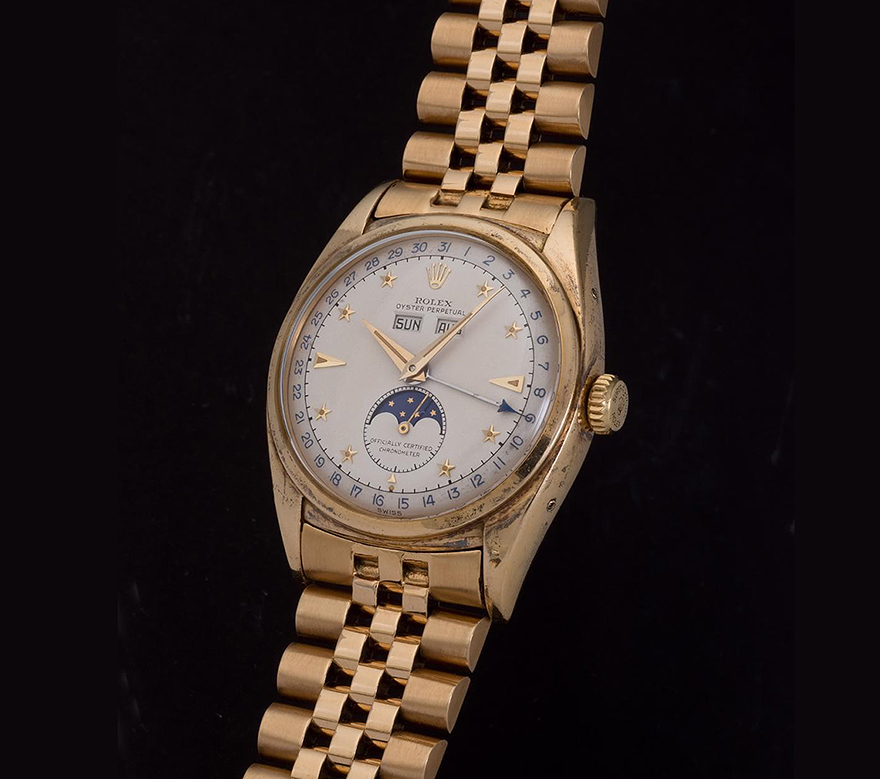 1952 yellow gold Rolex Ref.6062 "Stelline".